Wellness experience for beautiful, well-groomed feet
More than just foot care – with our wellness pedicure you can enjoy a relaxing foot massage and a refreshing foot peeling before your feet are freed from annoying calluses and your nails are filed into the desired shape. Your cuticles will then be professionally removed.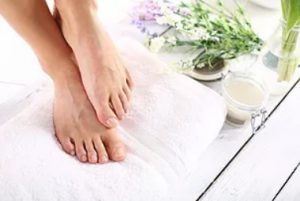 Wellness pedicure also includes:
Disinfect feet
Trim and file nails
Clean nail and nail fold, remove callus
Gentle foot scrub
Warm compress
Foot mask, soothing and relaxing foot massage
Paint or polish nails as desired.