Permanent Hair Removal
Do you want beautiful, silky smooth skin without annoying body hair? With the SHR Diode Laser, smooth and soft skin can be effectively achieved on all parts of the body. Be it for women or men – with us you will receive competent advice and be freed from annoying hair according to your wishes.
SHR Diode Laser is permanent and absolutely painless. You don't have to worry about any hair removal after the treatments are over: no more shaving, no waxing, no more plucking! That's not all: this treatment will make your skin even finer and softer to the touch!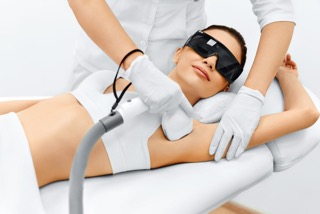 How does Diode Laser work?
The hair removal Diode Laser is the most innovative and effective system for permanent hair removal due to the targeted penetration depth of the light with a spectrum of 755NM+808NM+1064NM in combination with the movement and sliding technique (SHR). The Diode Laser technology ensures maximum success while protecting the skin and tissue at the same time. The SHR Diode Laser can successfully treat any skin and hair type. The optimized spot size makes the treatment more efficient, especially on smaller areas of the body.
The integrated contact cooling system further increases the feeling of well-being during the treatment. With the hair removal device, fast and lasting treatment successes are inevitable. The possibility of continuous operation allows permanent and permanently successful work.
How many treatments are necessary?
Because only part of the hair is in the so-called growth phase and the rest of the hair is in the resting phase, it takes a few treatments before all hair (in the growth phase) can be eliminated. In order to achieve a good result, depending on the skin type and the behavior of the hair growth, 6 – 12 treatments at intervals of 4-6 weeks are necessary.
Diode Laser ladies
Prices The costs each refer to one session
Price Damen
| Behandlungsart | Preise |
| --- | --- |
| Oberlippe | CHF 69.00 |
| Kin | CHF 69.00 |
| Oberlippe und Kin kombiniert | CHF 99.00 |
| Wangen | CHF 99.00 |
| Ganze Gesicht | CHF 120.00 |
| Achseln | CHF 69.00 |
| Oberarme | CHF 139.00 – CHF 169.00 |
| Unterarme | CHF 129.00 – CHF 159.00 |
| Ganze Arme | CHF 259.00 – CHF 324.00 |
| Hände | CHF 69.00 |
| Brustwarze | CHF 69.00 |
| Bauch | CHF 119.00 – CHF 149.00 |
| Bikinizone | CHF 79.00 – CHF 99.00 |
| Gesäss | CHF 149.00 |
| Pofalte | CHF 69.00 |
| After | CHF 69.00 |
| Oberschenkel | CHF 290.00 – CHF 349.00 |
| Unterschenkel | CHF 190.00 – CHF 249.00 |
| Ganze Beine | CHF 490.00 – CHF 590.00 |
| Füsse | CHF 69.00 |
Diode laser gentlemen
Prices: The costs each refer to one session
Price Herren
| Behandlungsart | Preise |
| --- | --- |
| Bartlinienkorrektur | CHF 69.00 |
| Bart Ganz | CHF 99.00 |
| Halskragen | CHF 69.00 |
| Gesicht + Hals | CHF 149.00 |
| Ohren | CHF 69.00 |
| Achselhöhlen | CHF 69.00 |
| Oberarme | CHF 149.00 – CHF 179.00 |
| Unterarme | CHF 139.00 – CHF 169.00 |
| Ganze Arme | CHF 259.00 – CHF 324.00 |
| Hände | CHF 69.00 |
| Brustwarze | CHF 69.00 |
| Brust | CHF 119.00 – CHF 149.00 |
| Bauch | CHF 119.00 – CHF 149.00 |
| Brust und Bauch | CHF 229.00 – CHF 289.00 |
| Schulter | CHF 169.00 |
| Rücken | CHF 89.00 |
| Lende | CHF 79.00 |
| Rücken und Lende | CHF 99.00 – CHF 169.00 |
| Ganzer Rücken + Schulter | CHF 339.00 |
| Intim | CHF 149.00 |
| Gesäss | CHF 159.00 |
| After | CHF 79.00 |
| Oberschenkel | CHF 290.00 – CHF 349.00 |
| Unterschenkel | CHF 190.00 – CHF 249.00 |
| Ganze Beine | CHF 490.00 – CHF 590.00 |
| Füsse | CHF 69.00 |