RADIO FREQUENCY MICRONEEDLING
The best of two methods for effective skin rejuvenation and regeneration.
What is radio frequency microneedling?
Radio frequency (RF) microneedling is an innovative method for skin rejuvenation and regeneration. Two proven therapeutic approaches are combined with each other – radio frequency energy with microneedling.
What happens during radio frequency microneedling?
With radio frequency microneedling, 25 gold-plated needles are inserted into the skin at different depths. A pulse of heat (radio frequency energy) is then delivered through the needle tips within milliseconds. This leads to an activation of the body's own regeneration processes with the release of growth factors and stimulation of the connective tissue cells (fibroblasts), which then produce more collagen and elastin fibers. The so-called fractional radio frequency microneedling represents a further development of the classic microneedling.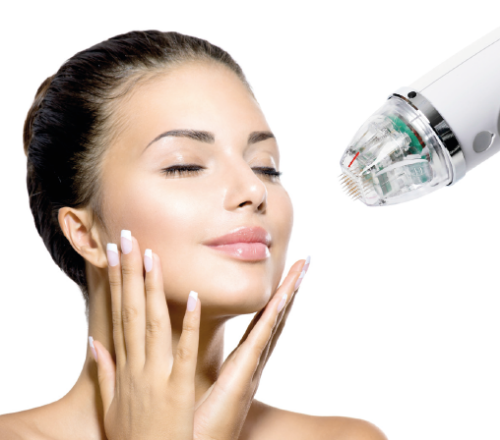 What does radio frequency microneedling do?
• Sensitive skin areas can also be treated with the Dermapen
Indications:
• Wrinkle reduction
• Skin rejuvenation
• Skin tightening
• Pore reduction / refinement of the complexion
• Correction of scars (acne, surgical, burn, chickenpox scars)
• Reduction of stretch and pregnancy marks (so-called striae)
Which areas can be treated with radio frequency microneedling?
• Face
• Throat
• Cleavage
• Hands
• Armpits
• Body (upper arms, elbows, inner thighs, knees etc.)
Is one socially acceptable after treatment with radiofrequency microneedling?
After an RF Microneedling treatment, the skin is slightly swollen and reddened for about 1-2 days (weekend procedure). If desired, the redness can be covered with a light, medical make-up. So you can go back to your usual activities straight away. It usually takes about 7-10 days to heal completely.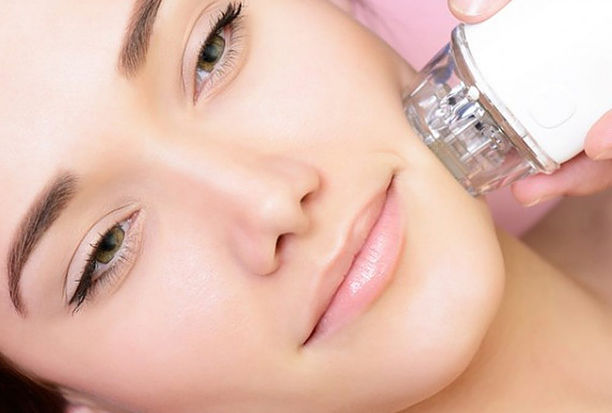 What are the possible risks and side effects of radiofrequency microneedling?
• Redness and swelling
• Small hematomas
• Inflammation
• Triggering a herpes simplex
• Rarely keloid/scarring growth
• Pigment disorders
• Skin peeling
Which skin types can be treated with radio frequency microneedling?
Treatment with radio frequency microneedling is suitable for all skin types.
What must be considered before and after a radiofrequency microneedling treatment?
Before the treatment, you should avoid taking blood thinners for at least 1 week. After an RF microneedling, direct sunlight must be avoided for about 6 – 8 weeks. When staying in the sun, a sunscreen with at least SPF 30 should be applied.
What aftercare is recommended after radiofrequency microneedling?
For aftercare, we recommend special cosmetic products with highly concentrated active ingredients to support repair and collagen production. Individual advice can be provided on request.
When should a treatment with radiofrequency microneedling not be carried out?
• Allergy to any of the ingredients
• Autoimmune diseases
• Acute and chronic skin diseases (dermatitis, psoriasis etc.)
• Haemophilia (increased tendency to bleed)
• Diabetes
• Epilepsy, multiple sclerosis
• Taking medication: vitamin A, antibiotics, blood thinners, cytostatics
• Acute and chronic infections
• Skin cancer
• Acute cardiovascular problems
• Pregnancy and breast feeding period
When and how long are the results visible after radio frequency microneedling?
The first result of an RF microneedling treatment is visible after about 2 – 3 months, the final result can take up to 6 months. For deeper scar treatments, results can be expected after 4 – 6 months at the earliest. The result is usually permanent, but skin aging progresses.
How often should radiofrequency microneedling be used?
In order to achieve an optimal result with radio frequency microneedling, at least 2 – 3 treatments at intervals of 4 – 8 weeks are recommended, depending on the body region and skin condition. To maintain the treatment result, the treatment should be repeated once after 9 – 12 months.
Prices
CHF 390 / treatment
Cure with 3 treatments CHF 880.-