Future of advanced skin renewal
All developments in skin renewal treatments are based on the latest technologies in the field of regenerative medicine and are unlike anything previously introduced to the professional skin care market. This gives skin care professionals the opportunity to achieve the best possible results.
The secret of a beautiful complexion is a gentle, yet effective treatment with a highly concentrated fruit acid (alpha-hydroxy acid, AHA) and individually tailored active care with modern AHA preparations that are ideal for long-term use.
The only deep peeling that can also be used in the sunny months. The immediate effect is visible to everyone. Wrinkles and fine lines are reduced, the complexion is firmer, has a good blood circulation, is rosy and fresh. Ideal for use in any season and perfect before an event. For face, neck and décolleté,
A fruit acid peel is suitable for anyone who wants to maintain a fresh, youthful appearance. The complexion is refined and improved.
Areas of application:
• Reduction of small wrinkles and age spots
• Improvement of active acne and acne scars
• Reduction in pore and scar size
• Refreshing the skin color and evening out the complexion
• Treatment of pigment spots
• Flabby and tired skin
• Skin rejuvenation
• Stimulating natural colleague production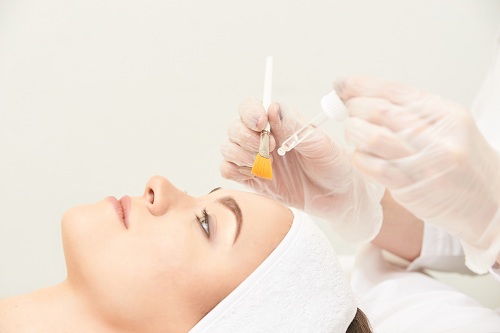 Prices
CHF 190 / treatment
Cure with 3 treatments CHF 490.-
Cure with 4 treatments CHF 590.-