The new trend non-surgical body shaping
Vacuum+RF+IFR
KUMA SHAPE is the most modern innovation on the cosmetic technology market, combining the effects of radio frequency current and infrared radiation with mechanical vacuum massage. With the combination of the physical effect of RF current, vacuum, tissue manipulation and infrared, the main causes of cellulite are treated in one treatment session, namely local fat accumulation, loss of elasticity in the connective tissue, reduced local microcirculation and lymphedema.
Intensive tightening of the skin
Skin elasticity and wrinkle smoothing
Infrared rays and radio frequencies can specifically heat certain tissues deep under the skin and enable the production of collagen in large quantities, improve blood circulation and make the facial skin/body areas elastic and smooth wrinkles.
Improvement of the figure:
High radio frequencies heat up the fat pad up to 5-15 degrees, saturate the skin with oxygen and improve the metabolism in cells, promote the metabolism of fat and thus the redistribution of water and glycerine; IR rays increase main elasticity, make skin fat burn; Mechanically moveable vacuum attachment increases the blood flow and promotes the release of enzymes during metabolism in the adipose tissue.
Removal of cellulite
High frequency radio waves acting simultaneously with moving vacuum attachment improves blood circulation and increases blood oxygen levels. The lymphatic system contributes to the elimination of metabolic products and the treatment of fibrous cellulite.
The heat penetrates deep under the skin and acts on fibroblasts, restoring collagen and elastic threads.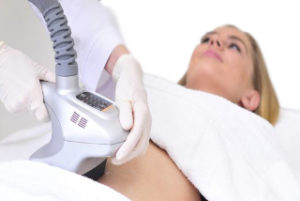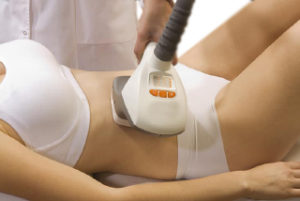 Advantages
– High frequency; Power 150 watts, penetrates deep into the skin, burns fatty tissue deep in the skin.
– IR rays: to produce collagen, improve blood circulation; high effectiveness in main bleaching and making elasticity.
– Movable vacuum attachment: mechanically moving suction attachment acts on the fat in epidermis and thus on cellulite, thermal energy and radio frequency energy increase the metabolism of the fat pad and shrink fat cells. Mechanical rollers and vacuum attachment act on blood vessels by increasing local blood circulation like massage for smooth skin with few wrinkles
The following problem areas can be treated:
• Cellulite and fat reduction
• Perfect body shaping
• Face contours
• Stretch and pregnancy marks
• Connective tissue regeneration
• Scope reduction
• Fat metabolism
Perfekte Bodyforming
• Gesichtskonturen
• Dehnungs- und Schwangerschaftsstreifen
• Bindegewebsregeneration
• Umfangsreduktion
• Fettstoffwechsel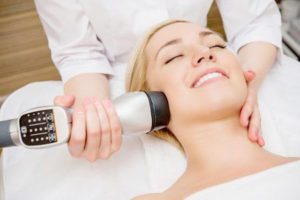 Kuma Shape Face
For sagging skin and facial contours
The Kumashape helps you achieve firmer skin and more defined contours.
Wrinkles are part of the skin's natural aging process. They arise sooner or later in everyone. Collagen, elastin and hyaluronic acid are lost more and more with age in the skin, which is why the skin has less support and less moisture binding. This causes wrinkles and the skin sags.
But you don't have to give up completely on nature! You can significantly improve your own appearance with the right methods. It is possible to effectively improve the quality of your own skin and you can actively pursue anti-aging with the right means. Best results are achieved with a method called Kumashape III.
• Skin tightening: New collagen is formed and tightens the skin
• Smoothing of wrinkles: the skin binds moisture again
• Skin tightening of the neck and décolleté: Excess skin is reduced
• Complexion: The complexion becomes smoother and more even
• Bags under the eyes and dark circles: the face appears fresher and smoother
• Double chin: fat is broken down faster
Contraindications:
1. Cardiovascular system
– Coronary heart disease
– Myocardial infarction
– With cardiac pacemakers
– Arrhythmia
– Active phase of rheumatism
– Thrombophlebitis
– Problems with the ability of your blood to clot (shown by heavy bleeding with skin damage that is difficult to stop)
– Varicose veins (severe manifestation of the disease)
– Second degree hypertension (blood pressure 180-200 mm Hg at 105-114 mm Hg), and third degree (blood pressure > 200 mm Hg at 114 mm Hg)
2. Genitourinary system
– Urinary stone disease
– Fibromyoma (benign growth of connective and muscular tissue) (during the massage the lower abdomen is left out)
– Cyst(s)
– With a vaginal IUD (during the 1st month after insertion, the contraceptive effect is reduced)
– The first days of the menstrual cycle
3. Skin
– All skin diseases
– Injury to the upper layer of skin
– Inflammatory and purulent, pimply skin changes
– Generalized dermatoses in the acute stage
4. Gastrointestinal tract
– Gallstone disease
5. Lung system
– Tuberculosis
6. Endocrine system
– Hyperthyroidism (overactive thyroid gland)
– Diabetes mellitus (sugar diabetes) (in weak, fragile blood vessels)
7. General points
– Tumorigenesis, oncological process
– Pregnancy (at any time)
– Afterbirth phase (up to 6 months)
– Fracture of the abdominal wall
– Radiculitis (irritation or damage to nerve roots)
– Infectious diseases
– Chronic diseases
– Fever
Prices Kuma Shape
| Bereich | Zeit Minuten | Preis |
| --- | --- | --- |
| Kuma Shape Beratung | 30 | Kostenlos |
| KS Gesicht ganz (ohne Hals) | 40 | 120.00 |
| KS Gesicht ganz mit Hals | 60 | 180.00 |
| KS Abo Gesicht mit 5 Behandlungen mit Hals | 45 | 790.00 |
| KS Arme | 60 | 130.00 |
| KS Bauch | 60 | 130.00 |
| KS Taille | 60 | 130.00 |
| KS Beine | 60 | 160.00 |
| KS Gesässstraffung | 60 | 190.00 |
| Körper ganz | 120 | 690.00 |
| Abo mit 5 Behandlungen (Körper ganz) | | 1.900.00 |