Double power against wrinkles and problem areas
EXILIS is the first and only device that combines radio frequency and ultrasound simultaneously to tighten skin and address body problems.
THE PRINCIPLE
Radio frequency and ultrasound in combination heat the skin and fat deep down. EXILIS tightens the face and body and destroys fat cells in problem areas. The unique EFC (Energy Flow Control) ensures that the optimal power is delivered to the target tissue at all times.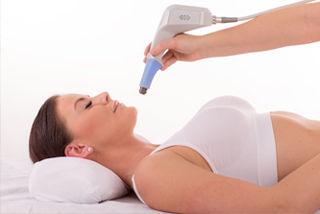 THE ADVANTAGES
2 treatment heads for face and body
Controlled heating and cooling ensures that energy is delivered to different depths in the tissue without pain.
The EXILIS treatment is ideal for all customers of all ages who are looking for cosmetic improvements to their face and body. Common treatment areas include the eye area, mouth, chin area, jaw line, décolleté, arms, legs, knees, ankles and buttocks, stomach and "love handles".
GOOD TO KNOW:
Due to the frequency, radio frequency waves from the EXILIS do not penetrate as deeply and primarily tighten the skin and promote collagen formation.
The ultrasonic waves penetrate much deeper and destroy fat cells.
In combination, they provide a double effect. Fat cells are destroyed, the skin and tissue are tightened.
Pregnant women, people with cardiac pacemakers or liver diseases should not be treated.
OUR RECOMMENDATION:
One to two treatments per week 15 – 30 minutes treatment time depending on the area
Prices
CHF 290 / facial treatment
CHF 390 / body treatment