Micropigmentation for Men
Derma Pigmentation for Men
Permanent Make-up is suitable for men and women of all ages. The advantages of each face can be emphasized individually and conspicuous defects can be concealed. Permanent Make-up lasts for years and is therefore a matter of trust. Eyebrows are visually filled in, lips are given a pronounced contour and eyelashes appear thicker. By no means does the man look as if he has been made up after such a treatment, because eSenCia pays particular attention to the fact that the man's natural look remains and that the man's appearance does not get a feminine touch.
Brew
On irregular, sparse, non-existent or too light brows, individual, color-coordinated hair lines are drawn between the brows with the pigmenting device, so that your brow shapes are optimized in an absolutely natural way. Lash line compression at the eyelash compaction.
Depending on the situation, small dots or very fine lines are pigmented directly between your own eyelashes. As a result, the eyelashes appear thicker and fuller, the eyes are emphasized and make your gaze appear more intense, so it is also suitable for men.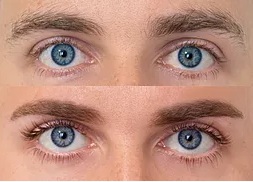 Liplight
Narrow upper lips or a running lip contour can be helped with the help of Permanent Make-up. The little heart above the edge of the lips is usually pigmented with a shade that corresponds exactly to your type. If desired, the little heart can also be lengthened to the side. With the Liplight, the lips look even more natural, especially with upper lip augmentations. Liplight makes an optical enlargement. Hanging corners of the mouth or uneven lips can also be optically corrected perfectly with this method.
Prices
Brows including 1 post-treatment
CHF 800.–
Any further post-treatment
CHF 200.–
Lash line compression at the top including 1st follow-up treatment
CHF 600.–
Any further post-treatment
CHF 150.–
Any further post-treatment
CHF 500.–
Any further post-treatment
CHF 150.–
Liplight per treatment
CHF 350.–
Consultation for free
We grant a 10% discount for two or more combined treatments