Ombre Powder Brows
The Ombre Powder Brows technique for powdery eyebrows is the latest trend for permanent make-up eyebrows (PMU). The techniques in the permanent make-up industry have improved greatly in recent years. Now you work with very fine needles, which can hardly be felt anymore.
Why Are Ombre Powder Brows the Latest Trend?
Ombre Powder Brows are made with a small pigmenting machine. With a fine airbrush shading technique, the pigment points are distributed on the skin. Microblading uses a blade to make many small incisions in the skin. Over time, these repeated incisions in the same places cause trauma to the skin more quickly.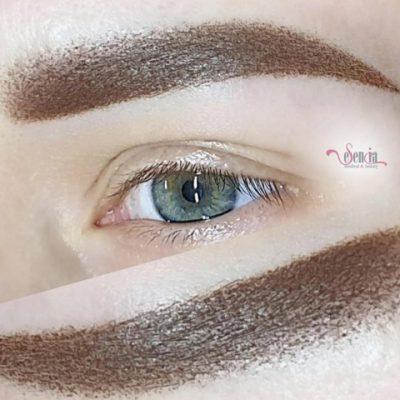 Less Pain and Blood
The powder eyebrows are less painful due to the airbrush-like technique used, which means that the skin is less traumatized than with microblading. The latter also leads to incisions in the skin, causing more bleeding. With powdered eyebrows, expect minimal to no bleeding during the treatment. Some customers report that the pain during use can be compared to holding an electric toothbrush on the surface of the skin. There is much less inconvenience to be expected with Vegas Brows since only a tiny little needle is used.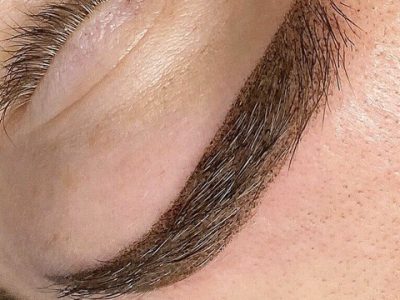 Durability
Results will of course vary based on lifestyle, skin type, health, aftercare, etc., but a single touch-up session with Ombre Powder Brows using high quality pigments can last up to 3 years. Microblading, on the other hand, becomes patchy and blurry over time. Therefore, frequent improvements are required. They lead to increased wear and tear of the skin and it can strain it more.
For all Skin Types
Unlike microblading, powder brows are suitable for all skin types. Microblading on oily skin requires many more touch-ups, causing more trauma to the skin.
Natural Eyebrows
While Ombre Powder makes brows look fuller, the healed results look like a softly tinted brow pencil or powder. Immediately after the treatment, the eyebrows appear thicker and more intense. However, they fade by up to 30% and leave a soft finish. The brows can then be refined again at a touch-up appointment after about 3 to 8 weeks. The before and after comparison is very unique and you will love your new powdery eyebrows.
In most cases we get by with two sessions. However, it can happen that the PMU is very light and therefore further treatments are necessary. It is important that the PMU is still visible and not completely faded. We only treat permanent make-up treatments and corrections that were not carried out by us by prior arrangement.
Important NOTE! For a permanent make-up treatment of the brows, the remaining brow hairs are never shaved off at eSenCia! At most, individual eyebrow hairs that are outside of the desired shape are plucked after precise consultation with the customer.
Follow-up treatments are possible from the 3rd week up to 3 months
If you do not contact us within the next 3 months, we will consider the work accepted.
Prices
Brows including 1st follow-up treatment CHF 800.–
Jade further aftercare CHF 200.–
Consultation for free
From two combined treatments we grant a 10% discount