Special Treatment for Blemished Skin
Is a special deep cleansing action for any skin that is oily and imperfect, but also tends to be dry and imperfect. The immediate success after just one treatment lies in a visibly clearer complexion, which has a finer pore structure and leaves a protective film with a velvety sheen.
Recommended treatment for:
– Skin prone to breakouts
– Follow-up treatment of acne
– Oily skin
– Thickened epidermis with "clogged" pores
– To refine the pore structure
– To build up the skin's own bacterial flora
– To balance the function of the sebaceous glands
– To restore a clear complexion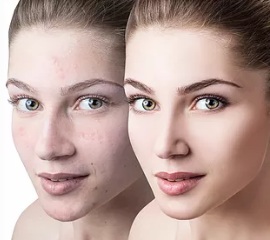 We use quality products for our cosmetic applications. These promise compatibility for every skin type and are based on natural plant extracts.
Your experience value:
Cleansing, peeling, gentle removal of impurities, disinfection with special lotion, ampoule active ingredient concentrate, mask. Care finish with anti-inflammatory special cream. The treatment focuses on removing impurities. We use superior specific products.
Our eSenCia team will be happy to advise you and take reservations.